If you are planning a camping holiday in Northern Norway this summer, you will probably find a cabin or a caravan site to your liking at Tromsø Lodge & Camping.
At the urban campsite Tromsø Lodge & Camping in Tromsdalen, a short distance from Tromsø city center, we are ready for the camping season to start in full. Also this year, the season will be marked by Norwegians on a camping holiday, and Tromsø Lodge & Camping has a wide offer for everyone who wants a summer holiday in northern Norway.
– Tromsø Lodge & Camping will be the setting for a wonderful summer holiday in northern Norway, whether you are going on a family holiday, couple holiday or holiday with friends, says General Manager Maria Kristiansen.
– And of course we focus on being able to offer glorious weather all summer, she adds with a smile.
Different cabins
The campsite has 58 cabins in different categories available for our summer guests, in addition to pitches for caravans, motorhomes and tents.
The cabins are divided into five different categories: Deluxe, Superior, Explorer, Traditional and Economy. Here everyone should be able to find a cabin that suits their needs and desires.
– We have cabins for every taste – large, small, modern cabins and old log cabins, says Kristiansen.
The deluxe cabins are modern cabins with a high standard, which were completed in 2014. The cabins have a fully equipped kitchen, including an oven and dishwasher. Here you also get a spacious bathroom and a large living room with TV, and access to a private balcony. In the Deluxe cabins there are two bedrooms with four separate beds. It is possible to sleep up to six people.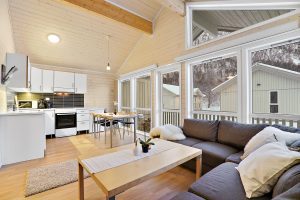 The superior cabins are comfortable cabins of a high standard, with a mini kitchen, bathroom and living room with TV. There is one bedroom in the cottage, and the possibility of sleeping for two additional people on the sofa bed.
The Explorer cabins are Tromsø Lodge & Camping's latest addition, which opened in February 2020. These are modern, architect-designed cabins, with glass panels in the roof, so you can look straight up at the weather and wind. In shape, the cabins are reminiscent of small ships, and the inspiration is taken from explorers who traveled out to sea. Here you get a mini kitchen, bathroom and sleeping space for up to four people.
The traditional cabins are classic camping cabins in a cozy and charming style. In the traditional cottages there is a kitchenette, bathroom and living room with TV. There are two bedrooms with bunk beds, and sleeps five to six people.
The economy cabins are small cabins with a simple standard. Here you will find a bunk bed for two, table, chairs and a kitchen counter. The cabins do not have water and toilet facilities, but are located approximately 150 meters from the service building where you can get water, and can use the toilet and shower. This is a good option for those who want an affordable alternative.
Camping for everyone
– Our Superior cabins are very suitable for couples, and perhaps especially adult couples who think it is nice with a sofa corner and TV, as well as the opportunity to sit outside and enjoy the evening sun, says Kristiansen.
The most popular cabins, which Tromsø Lodge & Camping gets the most bookings at, are the traditional cabins.
– These are booked a lot by families, as they have two bedrooms and the opportunity to bring a dog. In addition, we get many bookings at our Explorer cabins. These are the newest and coolest of the cabins on the campsite!
Camping with caravan or motorhome
Of course, it is also possible to camp with a motorhome or caravan at our campsite in Tromsdalen. In July 2015, we opened a completely new motorhome plain for caravans and motorhomes, with a total of 54 parking spaces.
Each space has a flat asphalt space for car / car, electricity and artificial turf. There are also tent sites available.
– We have a modern kitchen available for all guests, where they can prepare and eat their own food. In the service building, we have several showers and toilets, says Kristiansen, and emphasizes that we are talking about "single showers", not showers in communal facilities.
– It is important to us that both the showers and the toilets are clean and nice, and provide the opportunity for privacy, she says.
Enjoy the summer
At Tromsø Lodge & Camping, we are concerned that our guests will have the best possible summer, and we have several offers that support this.
The campsite has, for example, a separate barbecue area with a barbecue hut, which is accessible to all guests.
– Every day we serve breakfast from 08.00 to 11.00, in addition to selling fresh baked goods in the morning: bread, rolls and cinnamon rolls, says Kristiansen.
– At the reception we also sell coffee, tea and kiosk goods. We also have a great outdoor terrace with all rights, where you can enjoy the summer days.
Activity at the campsite
If you want to explore Tromsø, it is possible to rent a bike at the campsite this summer. Then you can easily go on an excursion, or into the center of Tromsø for some city life.
In Tromsdalselva, close to the cabins, you can fish for trout, or take a dip. If you want a sports session, you have a football field right next to the campsite.
– The football pitch at TUIL Arena can be used by guests when it is not in use by the A-team. We have a ball bag at the reception – you just have to borrow, says Kristiansen.
Welcome to a wonderful summer holiday at Tromsø Lodge & Camping!