CHRISTMAS LUNCH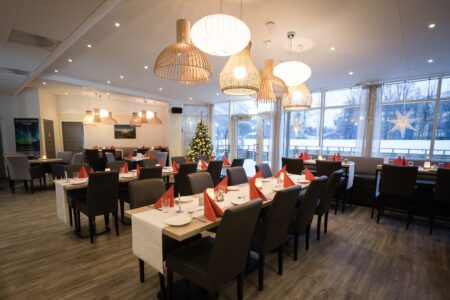 Bring your family, friends – og collegues and spend some cozy hours here while you are enjoying our tasty buffet of traditional Christmas dishes!
We have avaliable seats these days:
26. November
03.December
10 December
The buffet opens at 01 pm. Price per person is NOK 425, and includes dessert and coffee/tea.
For booking or questions, send us an email: bestill@tromsocamping or  call us at +47 776 38037
CHRISTMAS DINNER – "JULEBORD"
We arrange "julebord" these dates:
27. November
11. December
The event starts with aperetif (traditional "gløgg") at 6:30 pm, and the buffet is ready at 7 pm.
Price per person is NOK 525. This includes aperetif and dessert/ coffee.
For booking or questions, send us an email: bestill@tromsocamping or  call us at +47 776 38037