Head far beyond the Arctic Circle in Norway and you'll experience another world; wild and remote landscapes that in winter mostly attract ski tourers and those in search of an ethereal experience in the northern light show. Mountains rise 1500m straight from sea level, slopes maintain a consistent 30 degrees from summit to sea.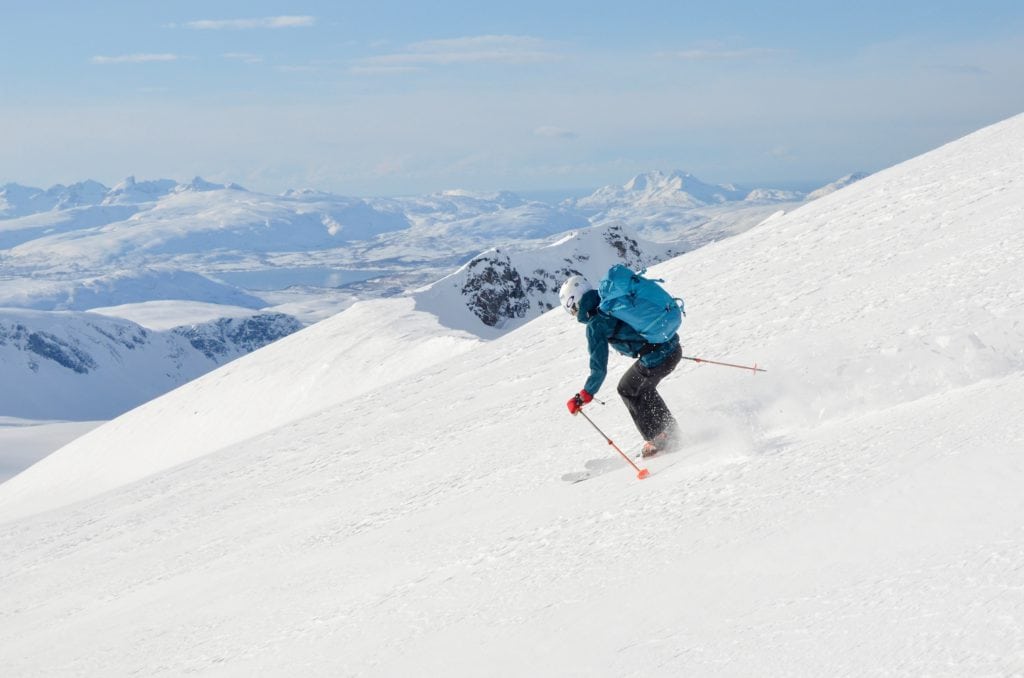 In Tromsø, you will find mountains to conquer in every direction. Both for beginners and for more experienced alpine skiiers
Staying in our lodges gives you the perfect hub to explore the area!
Total freedom
With free parking outside your own private lodge, you have the freedom to go wherever you want, when you want it.
And even though we serve breakfast in the reception, our lodges have private kitchens – so you won't have to worry about the time schedule or serving offers.
All our guests have access to our Sauna, a perfect place to relax your muscles after a long day in the mountains!
Our lodges
We currently offer three different options reccommended for skiers; The Deluxe Lodge, The Superior Lodge, and The Traditional Cabin.
Deluxe Lodge
Built in 2014, these are our "flagships". Large, two-bedroom lodges, with very high standard. You get your own patio, as well as a spacoius livingroom connected to the kitchen.
Read more about the Deluxe Lodge, and see more pictures
Superior Lodge
The Superior Lodge is the Deluxe's little brother. Built at the same time, with the same standard – these lodges are pretty much identical to the Deluxe. They are, however, a bit smaller, as they have one bedroom (with separate beds, possible to put together). Perfect for couples, or a couple of friends traveling together. The couch in the living room can also be converted into a sofa-bed!
Read more, and see some more pictures
Traditional Cabin
Our Traditional Cabins were built in the mid-80's. With some renovation, these guys are the perfect way to experience the traditional Norwegian "Cabin-culture". Two bedrooms with bunk beds, and a cozy kitchen and livingroom, provides what you need!
Read more, and check out the pictures
We want you to have the perfect holiday with us, and we do whatever it takes to give you the ultimate stay. Do not hesitate to ask us anything, we're ready to help!
Note: As a skier, you are already aware of the avalanche risk in snowy mountains. Please consult locals about the mountains you wish to visit, and always be updated on the avalanche risk.