The leaves are changing colors, the air is getting chilly and the nights are becoming darker and longer. Fall season is the food season in Tromsø. Fresh cloudberries, tender game-meat and wild mushrooms is on the menu in Norwegian households, and has been for centuries.
Norway has long traditions within food. From strong flavors in reindeer and moose with wild mushrooms, to sweet temptations in colorful berries and silky-smooth cream, put together by old traditions from the century-old survival community of old Norway. Not to forget the amazing fish and shellfish courses originating from long coastlines and fjords, with fresh commodities just a few hundred meters from town. Us Norwegians still eat traditional food that have existed for several centuries for breakfast, lunch and dinner. That must mean we have done something right once upon a time?
What characterizes Norwegian food?
The Norwegian geography gives our county a wide spectrum of traditional food, characterized by smoked or cured meats, and other flavors built upon the preservation of our food. Just a few decades back, Norway used to be a very poor country. Manual labor within agriculture, hunting and fishing was our main source of diet. This, combined with long and rough winters, made us reliant on food preservation, because we simply couldn't get a hold of fresh ingredients half of the year. That is how we got dishes such as "smalahove" (cured head of lamb), dryfish and gravlax.
Fish, fish and more fish
With one of the world's longest coastal lines, the Norwegian courses are heavily influenced by the fruit of the ocean. Traditional fish dishes were often accompanied with boiled potatoes or vegetables. To conserve the fish, we developed and used several interesting conservational methods. Dryfish, cured salmon, "rakfisk", salted fish – if it could make the fish meat last longer, it could be made into a dish. Several Norwegian party dishes with fish are still made with these special conservation methods. In more modern times, fish is still a key ingredient at the Norwegian dinner table, but we might eat sushi more often than rakfisk. Norway is actually the reason my sushi now contains salmalax!
Hunting and game-meat
Game-meat and sheep is a hugely important part of the Norwegian cooking as well. This also stems from the time where we hunted our own food. A lot of Norwegians are still hunters, and more than 500 000 people are registered in the Norwegian hunting register. Many Norwegians hunt their own food for dinner during the approved hunting seasons. Reindeer and grouse are the most popular game-meat in Northern Norway, but further south people are hunting more elk, venison and deer. Game-meat can be used in a variety of ways. Have you tried the reindeer burger with lingonberry jam – a specialty here in Tromsø?
What do we eat in 2019?
In more modern times we fortunately don't have to worry about where to get our food, even with the temperature at -10°C and snowstorming. All Norwegian kitchens have a fridge or a freezer, and our grocery stores import commodities from all over the world. We have become a more globalized society, with increasingly more impulses, information and access to other food cultures from all over the world. The pizza came to Norway around 1970. In 2018 alone we bought 50 million frozen pizzas – divided by a population of 5,25 million gives a lot of pizzas per person! Even though the traditional cooking, consisting of meatballs, cured meat and potatoes never will fade out, us Norwegians are more and more inspired by food habits from all over. Now we are making new traditions – the Friday taco is a dearly beloved dish for most Norwegian families.
TNS Gallup have made a list of ten dishes tourists have to try once they reach Norway:
1.  Pinnekjøtt ("stick-meat")
This is the most common Christmas dish among Norwegians living on the west side of the country! The dish consists of salted rib-meat from sheep, mashed turnips, sausage and boiled potatoes, and is a Christmas classic.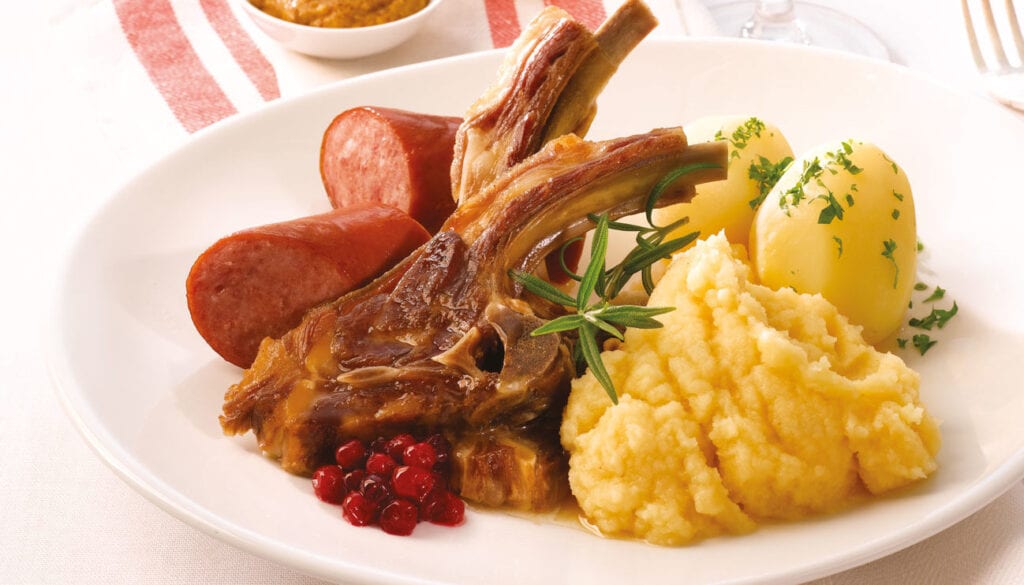 2. Spekemat (cured meat)
Salted and cured meat from various animals, often served with flatbread and porridge from sour cream. This is the perfect summery snack for a lot of Norwegians!
3. Kjøttkaker i brun saus (meatballs in gravy)
The dish consists of larger balls made out of minced, spiced meat, gravy, boiled potatoes and carrots, and lingonberry jam. This is often a huge favorite amongs Norwegian children.
4. Fårikal ("sheep-in-cabbage")
This is a stew consisting of sheep meat, cabbage and whole peppercorns. The dish is traditionally made by putting everything a large pot, and cooking it for a long time.
5. Dark bread with brunost (brown cheese)
Sliced, open faced sandwiches are a common dish for both breakfast and lunch in Norway. We are particularly proud of our brown cheese, which is a sweet, caramel-y cheese that tastes wonderful with freshly baked dark bread.
6. Rømmegrøt (sour cream-porridge)
Often combined with the "spekemat"! This is a type of porridge made out of sour cream, served with sugar, cinnamon and a dollop of butter.
7. Ribbe (ribs)
Another Christmas classic! The rib meat is from pig, and is served amongs many Norwegians during Christmas time, along with boiled potatoes, sauerkraut, red cabbage, lingonberry jam and flatbread.
8. Lutefisk ("lye-fish")
The lutefisk is a special Norwegian dish based on old traditions. It's made out of cod that has been presoaked in water, put in lye, and then boiled to give a gelatinous consistency. The dish is often served with potatoes and bacon.
9. Pizza Grandiosa
Norway is one of the countries with the highest consumption of frozen pizza in the whole world! The Grandiosa is a brand that came to Norway in the 80's, and is a classic cheese-and-ham-pizza loved by an entire nation.
10. Smalahove (sheep head)
This is maybe the most special dish on the list, and consists of a whole or half sheep head that has been roasted and cured. The meat in itself is salty, and actually kind of good, but only the luckiest person around the table get the delicacy of the smalahove – the eye!
---
This has been a rough explanation of what we actually eat in Norway. Here at Tromsø Lodge & Camping, we serve traditional Norwegian cooking every day, and change our menu seasonally. That way you can always be assured you get to try some of our local dishes, right here at our camp!
---